Happy Autumn

The weather has certainly turned autumnal, crisp mornings, and the ball definitely not running as it was.

Remember winter rules are now in place.

Saturday 17 September saw lots of members taking part in Captains' Day. A chilly shotgun start and a breezy finish. This did not deter the ladies team of Maggi, Paula, Jacqui Hard, and Wendy.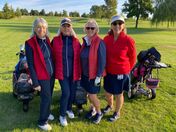 Looking good on the course
and winning with a great score of 91 Points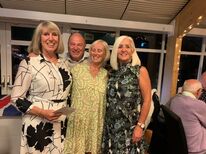 and looking good off the course - that is not Wendy but John D Club captain!!!
Sarah also won Longest Drive for the ladies and it was a stonker! Ann Lawrence won nearest the pin in 2 with an Eagle finish! Hazel won nearest the Pin for ladies. Great work ladies
Please continue to submit General Play Cards. This gives a more accurate handicap as we start to experience winter golf.
Barnham Broom Weekend Away - list is now full but there is a reserve list. Sign Up in Ladies Locker Room
Please can you use ig messages to cancel golf as not everyone is on Golfing Fun. If you haven't used it before, the icon for this is on the top right of the ig home app.
When teeing off please wait until your allocated tee time. This prevents bunching up on later holes.
I have cleared the locker room of used clothes and equipment and will bring them out again at Winter Invitation. I hope I haven't cleared away anything belonging to someone that wasn't meant to be cleared away. Let me know
Thursday 22 September Autumn Meeting - ideal opportunity to submit general Play Cards. Remember to choose between medal and Stableford.
Thursday 22 September Sign Up opens for 2 competitions on 6 October. If you have not received an email to say you are eligible to play in Kathy Dale Trophy then please sign into Autumn meeting
Sunday 25 September Weekend Stableford Alternative Q
Tuesday 27 September Stableford League Round 7
Thursday 29 September Stableford Q
Thursday 10 November Ladies AGM to take place immediately after golf
Tuesday 15 November Club AGM. 7 pm All Welcome
Winter Invitation Thursday 24th November Please invite your friends from other clubs. I know several people have already done this. It is a 9 hole competition with a 2 course meal afterwards Cost £22
Thursday 15th December.Christmas Greensomes . 9 hole competition . Wear Christmas Jumper. Decorate your trolley. Take snacks on the course. Followed by Christmas Party Night Cost £31.50 (members rates). 4 tables have been reserved for the Ladies Section. More details to follow but save the date.
Happy Golfing
Kathy