BIG NEWS OF THE WEEK
Sarah Faircliff is our Ladies Champion 2022 with a gross score of 161. Well done Sarah
Runner Up was Pat Ward with a score of 162 - a very close fought match. Great play
Angela Chatterton Handicap Cup was won by Cheryl Scott with 137. Great play Cheryl
Runner Up on countback was Pauline Humphrey. Well done- again a close fought competition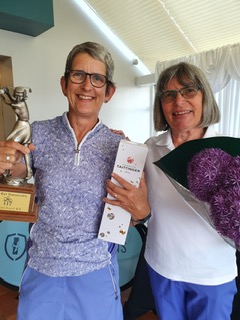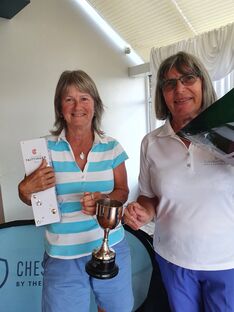 Message from Hazel - She needs to confirm numbers and menu with Lakeside soon. There is a tick list on the board in the locker room if you would like a vegetarian option ( main course is carvery). If you are not going to be at the club next week please let Hazel know by text or ig message
Slow Play has become a very big issue during ladies tee times. If you have lost a hole please either hurry up and catch up or let the players behind you through. There have been several times when players have lost 2 holes. If playing a team game don't all putt out. Be ready to play your shot. Someone tee off if fairway is clear, mark your card after teeing off.
Results:-
Only one this week but it's a good one
2nd July Scratch match had a 3/2 win against Aldwickbury. Well done ladies and Good Luck with your match on Sunday against Bishop Stortford
Upcoming Events
13th July - Friendly Match against Heydon Grange - Good Luck Ladies
Mens Charity Day Saturday 16th July. See previous newsletter
Awayday Thursday 4th August
Captains Day 17th September
Posh tea Parties Wednesday10th August and Friday 19th August. A few places left on both. Sign up in Ladies Locker Room
I have raised over £5000 so far for the charities. Thank you so much as it is mainly through your generosity
Enjoy the sunshine. I won't be playing again now until the Awayday as we have our granddaughter over from USA and then we are taking her home at the end of July. We arrive home at midday on 3rd August - don't expect anything coherent to come out of my mouth ( what's new you say?) as I will be jet lagged!