Well yet again Man proposes God disposes. I said there wouldn't be a newsletter this week as I was supposed to be in the north celebrating 2 big birthdays of my cousins. Covid had other ideas and has kept me in Shillington

The weather has been perfect for golf this week I hope that those of you were able to get out had a great time. Commiserations to those who were stuck in the house with Covid and could only imagine the joy of being on the course this week. Now I will stop being morbid!!

Next ladies committee meeting is Thursday 7 April. Please let Jackie Swanson have any items which you may like to raise. Must be submitted by Tuesday 29th March

5 members of Chesfield Downs spent an enjoyable day at Castle Royle Golf CLub courtesy of The Club Company. The weather and company were great - the golf not so much. Thank you to Barry for organising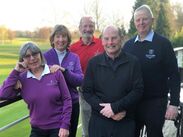 Upcoming Comps:-
NB Change of date for Spring Meeting
This will now be held on Thursday 19 May to allow Chesfield Ladies to take part in the Inter Club Competition at Benton Hall
Tuesday 29th March Start of the Stableford League Comp
Thursday 31 March The long awaited Megan Bonner Par 3 Comp. Shotgun Start 9.30 am Half handicap allowance Open to all. Followed by soup and a superb Power Point Presentation put together by Hazel. See some familiar faces in the Power Point. Cards have been written out and can be picked up from the bar from 8.15. Please let me know if you cannot play. Soup will be served in the upstairs studio also presentation of Birdie Badges
Check your Start tees here:-
1 Jacky S Megan Marica Kathy C
2 Margaret G Caroline R Julie Pr Julie R
3 Hazel Sarah Pauline Katy
4 Helen Jacqui Harb Paula M
5 Jenny B Debbie F Lyn C Ann K
6 Rosie Jackie R Jacqui Hard Karen
7 Mary H Lin G
7 a Pat W Nicola A Linda B
8 Mandy Rogie Maggi T Linda A
9 Hilary Jenny F Angela Pam W
This is correct as of Friday pm can you please let me know if you are not staying for soup afterwards
Saturday 2 April Mixed Roger Burman Warm Up
Sunday 3rd April Scratch Team Away Brookmans Park. Good Luck Ladies
Sunday April 3 Captains Drive In Sign up sheet in corridor Shotgun start at 8 am. If that is too early then arrive about 1.15 to plant a flag where you estimate a captain's drive will end up.
Tuesday 12 April Kay Baker 9 hole comp followed by refreshments in conservatory. Presentation by Kay's brother
Thursday 14 April Jubilee Jug with Easter theme. Get your outfits ready and/or decorate those trolleys
Friday 22 April First Friendly Match of the season. This is a great way to gain match experience. Sign up in Ladies Locker Room for this and future matches
Results:-
Saturday 19 March Mixed Winter League Round 16 Stableford- Top Ladies Kathy D and Annette G Well done Ladies
Tuesday 22 March Patsom Pairs 1st Rosie Ann K 45 Points 2nd Linda A Jacqui Hard 43 Points Well Done Ladies
Thursday 24 March Maria Moore Millenium Bowl 1st Sarah and Margaret G 46 Points 2nd Paula and Caroline 46 Points. Great results in fantastic weather. Close fought comp
Correction - Daily Mail. Helen's partner was Jacqui Harbor and not Hazel. Apologies Jacqui
Apologies for format of last newsletter - I have no idea why it came out so tiny and with fractured text. Hope this doesn't happen with this one!
Kathy