Well I think Spring has Sprung. The sun is out and the temperature is climbing

How lovely is it to be able to swing without wearing several layers of clothing?

Upcoming Comps:-

Thursday 24 March Maria Moore Millenium Bowl Need to have played 3 qualifiers to enter this comp.There are still a few places left on the sign up sheet on ig

Tuesday 29 March - start of the Stableford league comp

Thursday 31 March Megan Bonner This is 3rd time lucky for this date. Fingers crossed. Open to all. Soup and roll served afterwards in the studio upstairs. Followed by Power Point Presentation complied by Hazel - lighthearted question and answer session after Power Point and there may be chocolate rewards for answers!

Birdies from 2021will be also presented at this event

Sunday 3 April Captains Drive In. 8 am Shotgun Start The sign up sheet is filling up nicely but still a few places left. Come on you can get up early one day of the year!

If you can't face an early start then arrive about 1.15 to plant a flag to guess where a Captains Drive will land. ( Spoiler - try the bunker)

Tuesday 12 April Kay Baker Memorial Bowl. This is a 9 hole comp open to all. Refreshments afterwards in the conservatory. Kay's brother will present the award

Thursday 14 April Jubilee Jug - Pairs Betterball. Need to have played in 3 qualifiers to win. Have you got your Easter outfit/ trolley decorations ready yet?

Friday 22 April First Friendly match v Pavenham away. Sign up sheet is in locker room along with sign up for future matches. This is a great way to start learning about match play. Newer ladies are paired with more experienced ladies in a pairs comp

Results -:

Sunday 13 March Mixed Winter League 3 Clubs and a putter. Top ladies - Hazel and Jacqui Harb.

Tuesday 15 March - Daytona Pairs 1st with 624 points Hazel and Jacqui Harb 2nd with 690 points Marica and Jackie Hard I think Hazel deserves a maths degree for working all those scores out. My group really laughed during this game but were grateful we didn't have to work out the result

Thursday 17 March Price Vase goes to Nikki Brooke. Well done Nikki -First cup of the season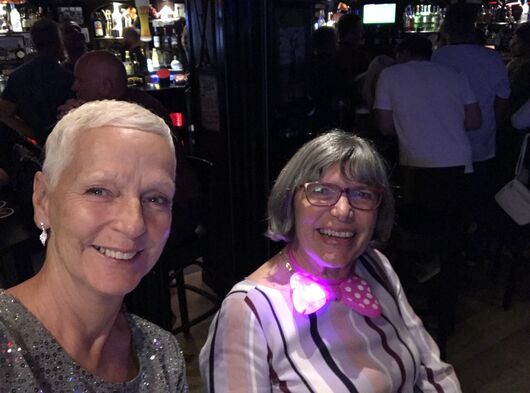 and the lady herself leading us all into bad habits on Portugal trip 2018
News and Updates:-
Thursday 12 May - Interclub Championship. This is run by The Club Company and is being held at Benton Hall 8 Senior men and 8 ladies of any age make up a team from the club. Chesfield have their quota of Senior men but not ladies. This date is also Ladies Spring meeting at Chesfield, however if you would like to represent the club go ahead and let Barry know. It would be a shame if the ladies were not represented. The final will be at Chesfield Downs 22 June.
I have heard it is a course worth playing!!!
Driving Range - I was asked when this would be open at the earlier time again. At the moment the balls are still being picked up by hand because of the wet conditions. Hopefully this mild weather will speed up the drying process and the tractor will once again be in use and the range can open earlier.
I am aware that the hairdryers are not working in the locker room and Barry has been informed.
I am away again next weekend so no newsletter. I am returning to my roots for a family birthday party. Do remember if you have anything you wish to be included in the newsletter then please e mail or text me.
Top Tip When leaving trolley near ditch on 10th hole until after your tee shot on the 11th please ensure it is not interfering with the players behind you with their shot on to the green Hand up - guilty as charged!
Kathy