What a year! I can't believe this is my last newsletter! Sundays will never be the same, I guess I will have to make the dinner once more instead of saying 'just off to do my newsletter' Its been a great year, I have more than enjoyed being lady captain in such a supportive ladies section. The generosity from you guys has been outstanding and I thank each and every one of you for all your donations to our charity this year. As in the words of Tina Turner 'You're Simply the Best'


Christmas Jumper Greensomes - 9 Hole Competition Thursday 16th December
40 ladies dressed in reds, greens, glitter and tinsel jumpers adorned the course. Once again the golf god was with us and made sure weather conditions were mild. Mince pies and mulled wine were on the menu, courtesy of the 'Club Company', and very nice it was too!
Congratulations go to:
Winners: Jacqui H and Linda A with 20 points
Runners-up; Rogie and Julie P
Nearest the Santa on the 3rd hole
Nearest the Elf on the 9th hole
Birdie Badges were also awarded from the season, well done ladies!







The most enjoyable part of being the Lady Captain is to have the honour of presenting a cheque to the charity of her choice. So it was with enormous pride I had the privilege, on behalf of the section, of presenting a huge cheque for £11,241.98 to the Lister Hospital. A moment I will never forget, many thanks ladies for making this possible.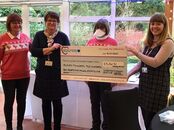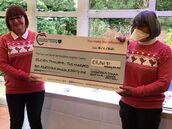 Christmas Party Night
Thursday saw some of our ladies at the Christmas Party. Although we missed those who could not attend we made a special ladies corner - felt just like the old days when we danced around our handbags!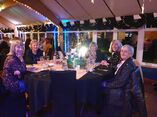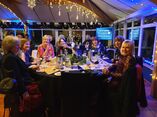 General Information
Next week we continue to have some fun competitions all available to book in via IG.
The Club Company Inter-Club Championship returns for 2022
Ladies website:
https://www.chesfielddownsladies.co.uk/
Last but not least I would like to take this opportunity to wish Kathy C and her team an excellent 2022.
Merry Christmas and a very happy and healthy New Year.
Pauline Humphrey xx
Lady Captain 2021