Hope you all enjoyed some fireworks over the weekend, can't believe we are into November already, shorter days and darker nights, lets hope for some winter sun!!!

Daily Mail Foursomes: This is the last of this seasons national competitions. The winning pair will represent Chesfield Downs in the National Daily Mail Foursomes competition to be held in 2022. Congratulations go to a worthy winning pair with a nett 69:

Jacqui Harbor and Helen Leigh
Good luck for the next round ladies, more details for you to follow.
AGM:
Thursday 11th November 6.30pm for 7pm sees our AGM, hopefully you will be able to attend. Lots of prizes to be given out following the annual reports. Minutes from the previous AGM and EGM have been circulated to all members of the ladies section along with the agenda for the evening. The agenda is also on display INSIDE the ladies changing room. Please note there will be no paper copies available on the night.
Pearsons League:
Our Pearson squad played away at Welwyn Garden City Golf Club in our first match of the season last Monday A very tough course, and some very tough matches. Welwyn put out a very strong team. Well done to Megan who won her match and very well played the rest of the team. Next up we have a home match against Great Hadden on Wednesday 10th November. Good luck ladies. If anyone who didn't put their name down on the original list and is now available to play, please contact Linda B Pearson Captain.
Hole in One:
During her 'Scratch Knock Out' match, the mighty Kathy D got an amazing 'hole in one on' the 17th! Fantastic news Kathy well done!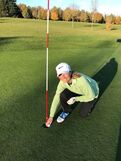 Some of you may have already heard that Katy C is in hospital at the moment, she is doing well. I would like to wish Katy a speedy recovery, we miss your cheerful smile at Chesfield, get well soon, we are all thinking of you.
Club AGM:
Tuesday 16th November Minutes from the club AGM held on the 12th November 2019 are available on IG:
https://chesfielddowns.intelligentgolf.co.uk/committee_meeting_minutes
Winter Invitation:
Thursday 25th November, If any of you have any bottle donations for the tombola raffle we will gladly take them off your hands! We will also be having a home made items sale. Looking forward to seeing all those lovely gifts you clever ladies muster up! Many thanks.
England Golf:
Good news from England Golf. New rules for winter golf - If all bunkers are GUR we can still put in general scores cards, it is classed as abnormal course conditions (rule 16.1). Please click on link for more information.
https://emailer.englandgolf.org/4ON0-164TU-3C5OE3-10ASQC-1/c.aspx
Have a good week!
Pauline Humphrey
Lady Captain 2021