On Thursday we saw 32 ladies competing in our Hattersley Cup. It was a lovely day with some hard fought close matches. Captains team came through in the end but congratulations to all those who took part and made it a most enjoyable day, followed by tea and scones, yum yum 'what better way to spend a Thursday'. It was great to have Bev join us and present her 'Hattersley Cup' to the Captains team. Well done everyone.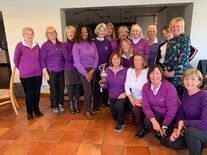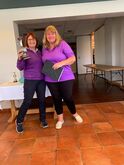 We also had the opportunity to present Amanda with 'Club Woman of the Year' and Hazel the 'Consolation Cup' Well done ladies .


Pearsons League
Our Pearson squad are in action again on Monday. They take on rivals away at Essendon. Good luck ladies we are with you!


Winter Invitation
Thursday 25th November. The tee sheet is now available to view on IG. There is also a tee sheet on the ladies notice board INSIDE the ladies changing room. Please inform your guests of their tee time. I am thrilled to say we have several different clubs coming to join us and a total of 80 ladies playing in this 9 hole single Stableford competition with another four joining us for lunch. Before the competition starts we will be selling unique Christmas cards designed by our very own Mandy U and home made items.

There will also be an opportunity to join in our 'heads or tails' competition to win this beautiful advent calendar donated by Julie R. Just a pound to join in the fun! All proceeds will go towards the Captain's Charity. Any donations for the home made stall will be greatly accepted.
We still have a few ladies who have not yet paid. Please send your £20 by Tuesday to: CDLS 40-28-14 81769642. Many thanks.
General Information
Club AGM
I would like to welcome Susan R to the ladies section. Susan is in the process of gaining her handicap. We look forward to meeting and playing with you.

Have a good week ladies!
Pauline Humphrey
Lady Captain 2021