What a freezing cold day, but it did not deter our weekend ladies going out to compete in the mixed winter league, well done ladies!
Double the Odds
Tuesday fun competition - Congratulations go to:
Sangeeta coming in with 61 points
Hazel coming in with 58 points

Well done ladies great scoring!

Winter Invitation
The Golf God was with us on Thursday when we held our 'Winter Invitation', the sun shone through the golden leaves on a brisk winter's day. It was great to see Chessie ladies - 'past and present' members, alongside ladies from several local clubs join us in what was a very enjoyable day. I am delighted to say, I have received emails and messages from our guests thanking us for such a good, friendly, fun day, and all looking forward to next years invitation! Congratulations go to:
Front Nine
Guest winner: Lorna Heal, Mount Pleasant GC, 21 points
Member winner: Ann Kane, 22 points
Guest runner-up: Julie Armstrong, 20 points
Member runner-up: Rosie Walker, 21 points
Back Nine
Guest winner: June Harper, (Knebworth GC) 23 points
Member winner: Pat Ward, 20 points
Guest runner-up: Lizzie Cooke, (Spalding GC) 19 points
Member runner-up: Jacqui Harding, 19 points
Well done everyone who made this day possible especially to:
Pam B for all her home made items
Julie & Pat for our "heads tails"
Hazel & Anne score cards!
Kathy C, sign in and many raffle ticket sales!
Linda B who did whatever I asked (many thanks)
Amanda, amazing table decorations
Knitters - Margaret G & Jacky S
The committee for all your hard work decoration the conservatory along with many other tasks
And all of you others too numerous to mention
We do not have final numbers on amount raised for our charity from this event (as yet) but it is approximately in the region of £1000, amazing! We done it again!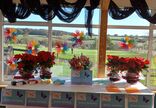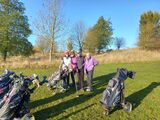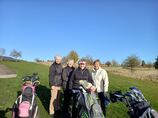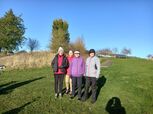 Pearsons League
Our Pearson squad took on rivals Essendon last Monday, unfortunately it was not to be Chesfields day, and Essendon fought hard to win all their matches. Next Wednesday we see the team in action again when we hope to get our revenge on Essendon at home, good luck ladies!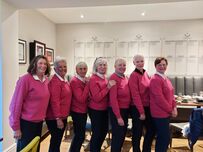 General Information
The list for catering for our Christmas party on 16th December is now up on the notice board in the ladies changing room. Please choose one option from each section and put the appropriate letters next to your name. Please pay at reception (not the ladies section) by Friday 3rd December many thanks.
Squad Thanks
Thursday 9th December will see tea/scones courtesy of the ladies section, for all you ladies who are part of our squads. We do hope you can join us. Please add your name to the sign up sheet in the ladies changing room for catering purposes.

Have a good week ladies!
Pauline Humphrey
Lady Captain 2021