Thursday saw a day on the course like no other I ever remember in my 10 years at the club. All bunkers were GUR! And looked like small ponds! Water flowed at an amazing rate, the dry pond almost split its banks, the qualifying competition was cancelled but we all enjoyed the 'Cup Winners Cup' and the 'Consolation Cup' congratulations go to:
Cup Winners Cup - winner: Sarah F, nett 70
Consolation Cup - winner: Hazel B, nett 70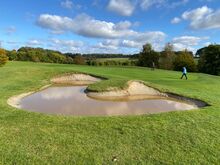 I for one thought the course looked beautiful with all the water flowing, even though I was minus a few balls!
The Faircliff Winter Scratch Cup/Rogie Taylor Handicap Cup:
Thursday 28th October. Open to all members of the ladies section. Rules for this competition:
The format is a ladies single stroke-play qualifier (playing handicap)
You must putt out on every hole
Following the first 18 hole round of the competition, players in positions 1 to 8 will be entered to play a 'scratch knockout matchplay' event over the winter (the draw will be seeded according to qualifying position from the 1st round) e.g. qualifier 1 will play qualifier 8 and so on
Handicap allowance of the 'scratch knockout matchplay - None
You are playing for: The 'Faircliff Winter Scratch Cup'
Players in positions 9 to 16 play a 'handicap knockout matchplay' event over the winter.
The draw will be seeded as above: qualifier 9 will play qualifier 16, etc.
Handicap allowance - Full
You are playing for: The 'Rogie Taylor Handicap Cup'
If you enter this competition please be prepared to play in the winter knockout matchplay event.
Club AGM:
Tuesday 16th November 6.30pm for 7pm. As there was not an AGM during 2020 due to Covid 19, we do not have minutes to circulate. However, if you wish to see any minutes from past committee meetings you can find them on IG, go to:
https://chesfielddowns.intelligentgolf.co.uk/committee_meeting_minutes
Alternatively you can visit the 'Chesfield Downs Ladies Section Website' where you can view minutes from the last 2 years, plus a labyrinth of information about the ladies section.
https://www.chesfielddownsladies.co.uk/#
Winter Rules:
Pick and Place came into effect on Monday 18th October 2021.
Bunkers GUR:
Please note that CONGU states that a qualifying competition may stand if some but not all bunkers are classed as GUR, clubs must ensure that the correct local rule (25/1b-ii) has been applied.
Birdie Badges:
Birdies fly south/emigrate after the 31st October and consequently the book will be closed. Birdie badges will be given out following Christmas Greensomes on Thursday 16th December. More information to follow.
Committee Meeting:
The next ladies committee meeting will take place on Thursday 28th October. If you have anything you would like raised at the meeting please email me.
Pearsons League:
Our Pearson squad are off to Welwyn Garden City Golf Club on Tuesday 26th October for a practise round before they take on WGC in the first Pearson match for many a day! Good luck ladies, enjoy your practise round and pick up some tips.
Have a good week ladies.
Kind regards
Pauline Humphrey
Lady Captain 2021