Hi Ladies,

I would like to start by congratulating you all! We now have the numbers which confirm the amount you raised on our 'Charity Day' which was held recently in aid of 'The Magic of Play' and the 'Volunteer Butterfly Service' both operating at the Lister Hospital. It's an amazing £5,242,65!!!! We are now looking at a total raised so far in excess of over £7000 to date. Well done to everyone on this mega achievement, especially as we only came out of lockdown in March. A truly magnificent achievement ladies! Many thanks to everyone who helped on the day, who donated and took part! We are certainly putting some smiles back on the faces of sick children, and helping to comfort those in their final hours. I can't thank you enough for your enormous generosity, best ladies section ever.

Solheim Cup: Friday saw Chesfield Downs (USA) take on new opponents 'The Essex' (Europe). 22 ladies travelled from Essex to Chesfield Downs to take part in our very own Solheim Cup. This is our first year competing against our new opponents, and the enthusiasm from both teams was beyond anything I could have expected as you will see from the photos below. Sadly it was not to be Chesfields day, and despite some very close matches the Essex took the cup, but our revenge will be at the Essex in two years time when I am sure we will bring it home! Well played Chesfield, and congratulations to the Essex. What a great day!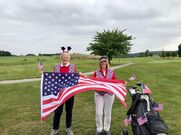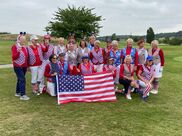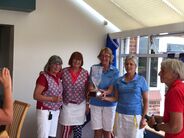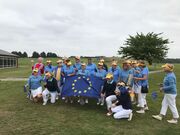 Ward Mixed Pairs
In the sunshine today 28 pairs played in the Ward Mixed Pairs competition. Congratulations go to:
Ann and Ian Kane 47pts
Anne Lawrence and Paul Taylor 46pts
Pat and Les Ward 45pts
Best front 9: Ian Braithwaite and Lynn Craig 24pts. Best back 9: Margaret and Richard Gentle 24pts. NP lady: Jacky Swanson. NP men: Ian Kane. Longest drive lady: Pat Ward. Longest drive men: Paul Chamberlain.
Captains' Day 18th September
Still places available. Sign up sheet is on the Club notice board. You can play or just come for the evening meal. Tickets are £37.50 (guests or members) paid to: The Men's Section, Code 60-20-26 Account 63553449. Come and support your Captains in this medley of entertainment. A great day/evening to be enjoyed by all.

Pearsons League
It's that time again! Team Captain Linda B is currently arranging fixtures for this year. We have been drawn against Great Haddon, Welwyn Garden City, and Essendon. More information to follow!

General Information
Following competitions when submitting your scores via the touch screen terminal, please remember to put your card in the box and also send a photo of your card to Karen M so that scores can be verified. Failure to do this may result in disqualification.

Queen Mother Theatre presents Shirley Valentine: Tuesday 13th October at 7.45pm, £12 per ticket. Please sign up on the board if you would like to attend. Any queries please contact Jackie R on: 07771 531121.

Have a good week ladies.

Kind regards
Pauline Humphrey
Lady Captain 2021