The Autumn Meeting saw many of our ladies receive their long awaited cups/trophies and prizes from the year. Congratulations go to:


Amanda M who came in with a fantastic score of 42 points to sweep away the Chris Leary Chalice 2021


In second place saw Kathy M with 41 points
Best Front Nine - Kathy D
Best Back Nine - Kathy M
Nearest the Pin on 9th and 12th - Jackie R
Nearest the Pin in two on 6th - Kathy D
Straightest Drive on 15th - Marion D
Well done ladies! Another great day at Chesfield!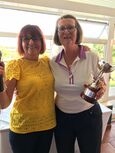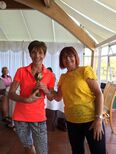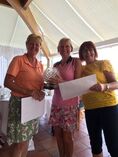 Kay Baker Memorial Bowl:
Tuesday 28th September 2021 following the Stableford League Round 7. Kevin, Kay's brother will be presenting the 'Kay Baker Memorial Bowl' trophy at approximately 3pm. Tea & cake, will also be provided in the conservatory.
Pearson Squad:
Linda B our Pearson Captain has put a sign-up sheet for this seasons matches on the notice board. We have been drawn against:
Great Haddon
Welwyn Garden City
Essendon
Open to players with Handicap Index of 12.5 - 34.4. If you would like to be part of the squad please add your name.
9 Hole Winter Invitation Competition:
Save the date - Thursday 25th November further information to follow.
Knitted Club Head Covers:
There is a pattern for those of you who are keen knitters on the notice board (help yourselves). We hope to sell the head covers along with homemade Christmas gifts and cards at the 'Winter Invitation Competition on Thursday 25th November'. Many thanks in advance to all those clicking needles!
Christmas Party Night:
16th December see our Christmas Party Night, if you would like to join in the festivities to celebrate a challenging year! please sign-up on the poster on the ladies notice board. We have provisionally booked 4 tables (40 ladies) so please sign up if you wish to attend asap. Tables will be returned to the club if not required.
Have a good week ladies.
Kind regards
Pauline Humphrey
Lady Captain 2021