Captains' Day
The sun shone down on us and saw over 70 members and guests tee off on Saturday for a great fun filled round of golf with a sea of multicoloured hats in full flow!. Coming in first place with an amazing 100 points was:
Annette G, Caroline K, Ann K and Ian K
Second place went to our fabulous juniors who came in with: 94 points; Amelia F, Dylan B, James B and Keeley M
Well done fantastic scores!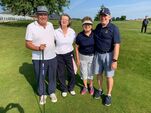 Following the game 'us four Captains' did the obligatory Drive-off amid the cheers and banter! Members placed their flags nearest to where the balls landed. Well done guys good judgements!
Back in the evening for a welcome drink followed by a delicious meal and howls of laughter as Magic Kevin entertained us. Then Chesfield ladies danced their hearts out ! Simply the best!! Many thanks to everyone who helped make this day possible.
Chris Leary/Autumn Meeting
Thursday 23rd September. Finally some of you will get your much deserved trophies won during 2021. This will be an exciting competition with prizes for Nearest the Pin and Straightest Drive, best front nine, best back nine, followed by a two course meal and presentation.


Kay Baker Memorial Bowl
Tuesday 28th September 2021; following the Stableford League Round 7. Kevin, Kay's brother will be presenting the 'Kay Baker Memorial Bowl' trophy at approximately 3pm. Tea & cake, will also be provided in the conservatory. There will be a sign up sheet on the ladies notice board for those who wish to come and enjoy some cake but unable to play. Closing date for entry is: Monday 21st September.


Scratch Team
Played their final match of the season this weekend. Pat W, Jackie R, Kathy D, Annette and Julie R travelled to Ashridge. The course was in excellent condition and the rain forecast fortunately stayed away. Kathy won her game and the rest of the team came second. Thank you to all team players and squad members for your participation and dedication this season. Onwards and upwards in 2022! Team Captain: Jackie R.


General Information
Tuesday 21st September; Weather permitting, sees the return of our much loved FUN competitions, hopefully this week we will be able to play 'split sixes' team stableford - sign up on Ig. Prizes will be awarded following the competition just like the 'good old days'!

Have a good week ladies.

Kind regards
Pauline Humphrey
Lady Captain 2021