Thursday saw 32 ladies travel off to Wyboston Lakes on the 'Kelland Pairs' Away Day. We were greeted by sunshine and coffee although the sunshine faded as the day went on and a few of us got a bit wet towards the end, that did not interrupt the enjoyment of such a lovely day. Congratulations to our winners, Rosie W & Nicola A coming in with an amazing 40 points, juggling for second place, and coming through on 'count back' was Jackie H & Megan with 39 points. Well done ladies great scoring.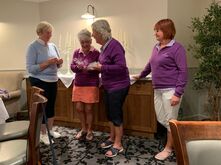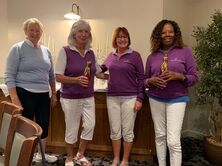 Marica presented the winners with "The Shard" not the usual trophy for this prestigious event, but the remains of what would have been! All taken in the sprit of the game and we have a new trophy ordered and on its way!
Friendly Team
The ladies friendly team took on Mowsbury at home on Friday 6th August, well done ladies great result 3 - 2 to Chesfield.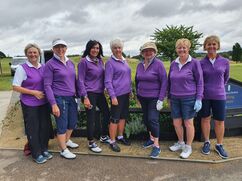 TopTracer Challenge
Kicks off at 12.00 on Tuesday 10th August and will continue throughout the week, it is open to you and all your family and friends. No need to book, just turn up and have a go. Prizes for:
Longest Drive - Ladies
Longest Drive - Men
Nearest the Pin - Ladies
Nearest the Pin - Men
£2.00 Cash to enter and see if you can win vouchers up to the value of £100 to enjoy on TopTracer. Can you rise to the challenge? All proceeds go to the Lady Captains Charity Day.
Palmer Cup
The annual Palmer Cup is to be played on Friday 13th August Ladies v Seniors. Good luck ladies.

Lady Captains Charity Day 19th August 2021
Countdown to the big day!!! Only one and a half weeks to go!! We still have a few spaces: The Start Sheet for the day is now available to view on the ladies noticeboard. If you would like to join in and have not already secured your place, please let myself or Lin G know. Everybody welcome, its going to be a fun filled experience. Cash will be needed to participate in:
Raffles
Stalls for browsing
Auction
Mulligans
Magic balls
Don't be left out come and enjoy in the fun!
Solheim Cup 2021
Chesfield Downs v The Essex at Home on Friday 3rd September 2021. Chesfield Downs represent USA and The Essex represent Europe. Cost will be £15 per person which includes a BBQ lunch. If you would like to be involved and are a team player Sign up is now OPEN on IG for Squad Selection.
If you wish to be involved as Caddies/supporters/lunch only, add your name to the Caddies and Lunch ONLY Poster on the notice board.

General Information
Out early on a beautiful morning Ann L & Hazel were enjoying a round of golf when Anne had an Eagle on the 18th hole! Congratulations Ann, the comment from Hazel was 'Amazeballs". Well done Anne!

Captains Day 18th September
Sign up sheet is on the Club notice board.
Shotgun team alliance start at 8.15am
Complimentary drink following your round
Captains Drive-off
7pm return to the club for a welcome drink, 2 course evening meal, Magic show and Dancing
Tickets £37.50 per person (guests or members) paid to: The Men's Section, Code 60-20-26 Account 63553449
A great day/evening to be enjoyed by all.
Have a good week ladies.
Kind regards
Pauline Humphrey
Lady Captain 2021