Evening Ladies,

Another fun filled week of golf! Thursday we played our August Stableford Qualifier and congratulations go to:

Sarah F winning division 1 with 38 points
Julie R winning division 2 with 42 points
Congratulations also go to the winner of 'Mixed Dennis Flynn Memorial' competition:
Clare L with an amazing score of 42 points
Well done ladies great golf!
Next Friday sees our much loved Solheim Cup competition. This year is our first competition against our new opponents, 'The Essex'. We are taking on The Essex at home for a brand new 'Trophy' for 2021. Preparations are all now in place so let's hope it is a great occasion. Hilary has been very busy as you can see below! The team can collect their waistcoat from Hilary on Friday morning.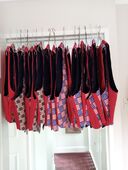 There are still some places to play in the practice round on Tuesday 31st August, all information and sign up is on IG. If you want to join in the fun there are still places for caddies or just lunch, Cost will be £15 per person which includes tea/coffee, BBQ lunch and American cheesecake. Add your name to the Caddies and Lunch ONLY Poster on the ladies notice board by Tuesday 1st September.
Captains' Day 18th September
Still places available. Sign up sheet is on the Club notice board. You can play or just come for the evening meal. Tickets are £37.50 (guests or members) paid to: The Men's Section, Code 60-20-26 Account 63553449. Come and support your Captains in this medley of entertainment. A great day/evening to be enjoyed by all.

General Information
Queen Mother Theatre presents Shirley Valentine: Tuesday 13th October at 7.45pm, £12 per ticket. Please sign up on the board if you would like to attend. Any queries please contact Jackie R on: 07771531121.

On the Tee
Please can all ladies make sure they are down and ready to play at the tee, 10mins before their start time. This ensures the smooth running of the tee sheet, and helps to prevent slow play. Many thanks for your cooperation.

Have a good week ladies.

Kind regards
Pauline Humphrey
Lady Captain 2021