What a 'MEGA' effort from everyone fundraising at our Charity Day on Thursday, well done, and many thanks. I hope you all enjoyed it as much as I did, even the weather was kind to us! Great scores on the day, coming in pole position was our very own chessie ladies:

Pat W and Rogie T with a huge score of 47 points 'pipping' on count back another chessie duo:
Margaret G & Sarah F followed again on count back - for 3rd place were our guests:
Jenny J & Andrea K from Whipsnade Golf club
Mandy U and Jill B came in with another great score of 45 points taking 4th position on count back
Well done ladies!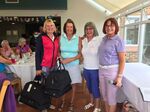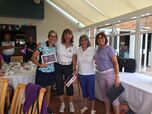 So much fun and a great atmosphere!








So many people to thank, - green keepers, catering staff, management, Nikki and Olive, our auction extraordinaire, and all the volunteers. Half way house was indeed a delight with so many beautiful cakes/fruit/savoury 'yummy in my tummy' options! And thanks to all the gents who came in and ate up all the leftovers, leaving very generous donations to our charity. Last but not least an enormous SHOUT OUT to our lovely Chesfield Ladies Section and their guests who never cease to amaze me on how kind and generous you all are! TopTracer competition winners will be announced shortly when all scores have been verified.

Friendly Squad
Were in action on Friday in a new format for friendly matches, 'playing in a triangle', match report from team captain for the day Pat W: - "Yesterdays friendly was a great success everyone REALLY enjoyed the format. We had a delicious tea. Cheryl from Redbourn provided a small gift for the winners of a golf ball and onion chutney". Coming in with 80 points were the clubs combination team of:
Cheryl from Redbourn, Sue from Knebworth and Pat W from Chesfield Downs.

Next year the host club Knebworth - (one for your diary).

Scratch Team
Report from Team Captain Sarah. 'This weeks scratch match was at home to Ashridge A. Luckily the thunderstorms had gone away but that didn't stop us getting wet whilst furthest away from the clubhouse! Still, not daunted by the weather the Chesfield girls gained a very well deserved 5 - 0 win. Amelia sank a birdie putt at 18 to win her match and the rest of us did ok too! Well done team, fab whitewash!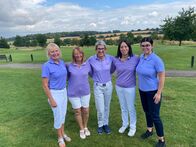 Well done ladies great news!
Solheim Cup 2021

Chesfield Downs v The Essex at Home on Friday 3rd September 2021.

It's time to get out those stars and stripes again.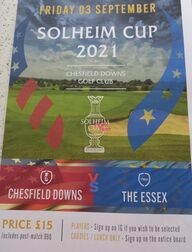 Cost will be £15 per person which includes a BBQ lunch and American cheesecake. Sign up closes MONDAY 23rd August on IG for Squad Selection. If you wish to be involved as: Caddies/supporters/lunch only. Add your name to the Caddies and Lunch ONLY Poster on the ladies notice board.
Captains' Day 18th September
Sign up sheet is on the Club notice board so hurry up and don't miss out. Remember to choose your menu options. The format for the event goes as follows:
Arrive and collect your gift from the captains
Shotgun team alliance start at 8.15am
Complimentary drink following your round
Captains Drive-off, come and watch the captains drive off and guess how far they go!
7pm return to the club for a welcome drink, followed by a 2 course evening meal. Meet Kevin the magician who will be doing magic at your table, and teaching you how to perform a few tricks! You can then dance the night away to the disco. For those of you that have never been to Captains Day its a big thanks for all your support from your 2021 captains. So I hope you will be able to join us. Tickets are £37.50 (guests or members) paid to: The Men's Section, Code 60-20-26 Account 63553449

Come and support your Captains in this medley of entertainment. A great day/evening to be enjoyed by all.
General Information
Queen Mother Theatre presents Shirley Valentine: Fancy getting back into theatre? No long journey into London but to our local theatre in Hitchin. An up lifting funny adaptation of Willy Russell's Shirley Valentine. Socially distanced seating in an air conditioned auditorium. Tuesday 13th October at 7.45pm, £12 per ticket. Please sign up on the board if you would like to attend. Any queries please contact Jackie R on: 07771531121
Have a good week ladies.
Kind regards
Pauline Humphrey
Lady Captain 2021