This week saw the Ladies compete in the 'Palmer Cup' Ladies v Seniors. It was a lovely occasion and played in great sprit.
NTP for the ladies went to vice captain Kathy
NTP for the seniors went to Stuart K
Unfortunately, Friday 13th was not to be the ladies lucky day, however, we were very privileged to have David Palmer attend to present the 'Palmer Cup' to the seniors section to celebrate their 4-3 closely fought victory. Everyone enjoyed this inter-section event and we look forward to next year when its definitely the ladies turn to win back the cup!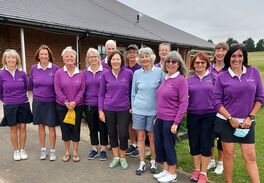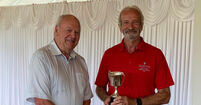 Scratch Team
Report from Team Captain Sarah. 'On a good day for golf the Scratch team took on the ladies from Porters Park at home. Although the greens presented us with a challenge it was the same for us all and Porters Park perhaps found them a bit more to their liking than us in the home team. The matches were close and the opposition good fun to play against but Porters won 4-1. Thanks to all the team and on her return to the team from injury, congrats go to Sally who won her match.'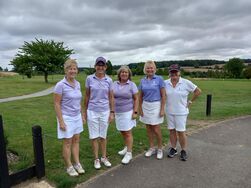 Well done ladies some great scores!
TopTracer Challenge
Many thanks to all ladies who have very kindly given up their time to monitor this challenge and raise funds for our charity this year,
https://www.justgiving.com/fundraising/pauline-humphrey
We are still providing you with the chance to win a £25 voucher till Tuesday 17th August if you have missed us on the range. Open to everyone, big or small, as you can see from young golfer Toby enjoying his introduction to the game.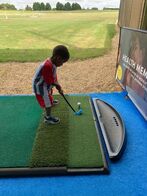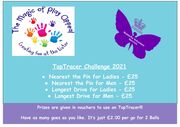 Well done Toby. Good Drive!!
Lady Captains Charity Day 19th August 2021
Our main event of the year is now upon us. The weather forecast looks good so if you are unable to play, why not 'pop in' to support your section, there will be stalls for you to enjoy. Cash will be the choice of currency on the big day to participate in:
Raffles
Home made items
Nearly new items
Auction
Mulligans
Magic balls
The Start Sheet for the day is now available to view on the ladies noticeboard. Please arrive in plenty of time to have a browse before you play. Presentations and Auction will take place in the conservatory following lunch. Good luck everyone and have a fab day!
Solheim Cup 2021
Chesfield Downs v The Essex at Home on Friday 3rd September 2021.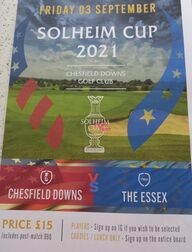 Cost will be £15 per person which includes a BBQ lunch. If you would like to be involved and are a team player Sign up is now OPEN on IG for Squad Selection. If you wish to be involved as: Caddies/supporters/lunch only. Add your name to the Caddies and Lunch ONLY Poster on the ladies notice board.
Course Maintenance
The whole process of greens maintenance may cause disruption, but the putting surfaces will reap the long term benefits. To find out more details on what the green keeping team have been working on over the last week go to: IG home page, Latest NEWS and scroll down to read: New Course Manager Course Report - August 2021.

Captains Day 18th September
Sign up sheet is on the Club notice board.
Shotgun team alliance start at 8.15am
Complimentary drink following your round
Captains Drive-off
7pm return to the club for a welcome drink, 2 course evening meal. Magic show and Dancing
Tickets £37.50 per person (guests or members) paid to: The Men's Section, Code 60-20-26 Account 63553449
A great day/evening to be enjoyed by all, book your place now.
Have a good week ladies.
Kind regards
Pauline Humphrey
Lady Captain 2021