Yet another great golfing week with many handicap cuts well done ladies!

Scratch Team
The ladies Scratch team were in action today v Porters Park. Some very hard fought matches, well played ladies.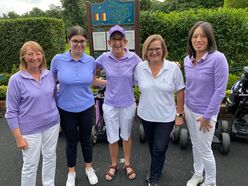 'Scratch Captain' Sarah: 'On a beautiful lush and extremely well maintained course the Scratch team took on Porters Park. All the matches were played in great spirit against some wily competitors and in spite of intermittent rain we were still in good spirits at the end! There were 2 matches that went to the 18th and sadly we narrowly lost 3 and 2 overall. We will be entertaining them on the return leg at Chesfield in 2 weeks time.'

Friendly Team
The ladies friendly team will take on Mowsbury at home on Friday 6th August, good luck ladies.

Kelland Pairs'Away Day
Thursday 5th August sees Chesfield ladies travel off to Wyboston Lakes (for our postponed from last year) much loved 'Away Day'. Coffee on arrival at 9.15am. We will be playing off our Course Handicap at Wyboston where the Slope index is 126. Looks like a fun day, enjoy!

TopTracer Challenge
As we now have the brilliant TopTracer at Chesfield Downs we will be holding a 'TopTracer Challenge' to raise funds for 'Charity Day' on the range! The challenge kicks off on: Tuesday 10th August following the 9 hole competition, (which replaces 18 holes due to course maintenance). It is hoped that we can continue the challenge throughout the week, so please get all your family and friends to rise to the challenge! No need to book, just turn up and have a go. Please bring with you 2 shiny pound coins (£2) to enter and see if you can win vouchers up to the value of £100 to enjoy on TopTracer.

Palmer Cup
The annual Palmer Cup is to be played on Friday 13th August Ladies v Seniors. Sign up sheet is on the notice board opposite the ladies changing room. Still places available, so come and join in this great event!

Lady Captains Charity Day 19th August 2021
Countdown to the big day!!! only 2 and a half weeks to go!! We still have plenty of spaces:
If you want to do 9 holes
If you want to join us for lunch only
If you would like to sponsor a hole

Please sign up on the sheets opposite the ladies locker room. Everybody welcome, its going to be a fun filled experience. We will be having raffles, stalls for browsing and a few surprises on the course, cash or cheque payment possible. Remember to bring cash and your £1 coins in particular - that's all I am saying!

Solheim Cup 2021
Chesfield Downs v The Essex at Home on Friday 3rd September 2021.
This biennial competition has come round again, Chesfield Downs represent USA and The Essex represent Europe.
Format: In line with the international competition
3 singles matches
3 x 4BBB
3 x Foursomes
If you would like to be involved and are a team player, please sign up from Monday 2nd August on IG. Squad Selection is based on the success gained through other matchplay formats both internal and external in the form of Scratch, Friendly games, experience and availability. Caddies and supporters are also needed to bring the Solheim Cup HOME! Further information to follow.
Ward Mixed Pairs
Sunday 5th September, £10 per person which includes a sandwich & chips lunch & prizes, for further details and sign up, go to IG.

General Information
Our new Course Manager JonJo Pitts started on Monday. JonJo joins us following 6 years of experience as Deputy Course Manager at Royston Golf Club. Please join me in welcoming JonJo, I am sure he will be a fantastic member of the team.

Birdie Badges
The birdie book is back! Any birdies obtained in competitions to date for this year will be added to the book. Any birdies obtained in knockouts, friendlies or scratch/Pearson matches need to be entered by individuals (I know dates for these are impossible to remember but which competition will suffice). Ladies are now responsible to register their birdies in the book which will run until 31st Oct 2021. Birdie badges will be presented to individuals when they achieve their:
1st Birdie
10th Birdie
20th Birdie
Touchscreen Score Entry Terminal
The touchscreen is located in the reception area for those of you who may prefer to use it instead of your mobile phone to register your score. Following this please ensure you place your score card in the box in the ladies locker room. Score cards must be verified by the handicap secretary - failure to place your card in the box will mean disqualification.

Food & Beverage App
Food or drink orders may now be ordered via the app and delivered direct to your table AND it gives you your 10% Members discount.

Car Wash
If you fancy coming back to a lovely clean car following your round, check out the car wash in the staff car park. Many ladies have recommended them stating 'they do a great job'.

Enjoy your week!

Kind regards
Pauline Humphrey
Lady Captain 2021