Great sporting week with tennis fans seeing British wildcard Emma Raducanu get through to the last 16 at Wimbledon, and England's brilliant win against Germany followed by victory in Rome against Ukraine - its coming home! Not to mention last Sunday, when we saw 27 Chesfield Downs ladies head off to Staverton Park for the rescheduled 'Away Weekend'. Unfortunately, the weather was not kind to us but this did not deter Chesfield from the fun filled agenda planned by our amazing organisers Nikki & Nicola. Chesfield ladies did us proud in their allocated 'country team' colours, bearing flags, and masses of team sprit. Great weekend, would recommend you get your name down early for next years epic event!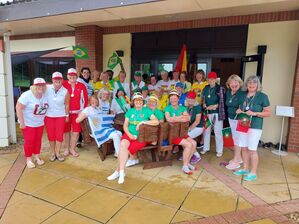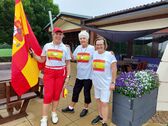 Club Championship 2021
Thursday 1st July saw the first round of the ladies club championships. We have a few contenders on the leaderboard so watch this space. Round two takes place on Thursday 8th July where the lady with the lowest gross score will be crowned our 'Club Champion' for 2021. The lowest nett scorer will receive the 'Angela Chatterton Handicap Trophy' Good luck ladies have a good round.
Presentation of 2020 Cups/Trophies
Thursday July 22nd sees last year's lady captain, Rogie T, presenting prizes/trophies and birdie badges to winners/runners up from competitions played during 2020. The presentation will take place following the Lorraine Palmer Pairs Betterball competition. Tea and Cake will be served in the conservatory.
Charity Day Thursday 19th August 2021
Sign up sheet is on the notice board. Bottles and bric-a-brac items for raffles will be gratefully accepted by any member of the ladies committee.
Special Captains' Day 'Save the Date' Saturday 18th September:
Shot Gun start
Stableford Team Alliance Competition
Special Celebratory Drive
As the sun goes down, return for a delicious 2 course meal, a Magic Show and then dance the night away. Further details will follow.
General Information
Scratch Match: Sunday 4th July Chesfield Downs v Knebworth at home, unfortunately not our day and were overcome by Knebworth who sent a very strong team. Congratulations to Hazel who played so well in her debut scratch match and came in with a win.
Congratulations to Amanda M and Ann K who have made it through to the area final of the Coronation Foursomes to be played at St Ives Golf Club on 23rd July, great achievement ladies, well done and good luck!
Friendly Match: 14th July sees our friendly team in action when they take on Hayden Grange at home. Good luck ladies.
Away Day Thursday 5th August at Wyboston Lakes: This is when we compete for the 'Kelland Pairs Trophy'. The closing date for this competition is Thursday 8th July. If you wish to attend please add your name and menu choice to the form (on the notice board in the ladies locker room). Payment of £42.00 can be made into: CDLS 40-28-14 81769642 referenced 'Away Day' (if you are unable to pay via online banking, cheque/cash may be put in an envelope referenced: 'Away Day' 'Name' 'Amount'. Please place in the black box in the ladies locker room, thank you.
Happy golfing
Kind regards
Pauline Humphrey
Lady Captain 2021