Presentation of 2020 Cups/Trophies/Awards: Following the Lorraine Palmer Cup on Thursday 22nd July, Rogie presented the long awaited prizes from 2020. Crossroads Care the 'Lady Captains Charity in 2020' were also present to receive a cheque for £2450 an impressive amount raised during a pandemic! Lin G received the well deserved 'Club Woman of the Year' award. Well done all you winners, and for all the kind donations to Crossroads Care, and of course Rogie our 2020 Lady Captain!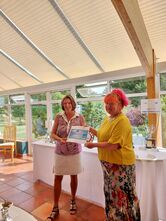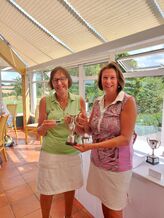 Away Day- 'Kelland Pairs' Wyboston Lakes, 5th August 2021
Not long now! Looks like a fabulous day. Pairs for the day are displayed on the notice board. If you would like a buggy please let Kathy C know asap. Payment - if you have not already done so is: by bank transfer: CDLS Account No 81769642 sort code 40-28-14. Or, alternatively, please place cheque or cash in an envelope marked with name, amount and Away Day, and place in the black box in the ladies locker room thank you.

Lady Captains Charity Day 19th August 2021
Countdown to the big day!!! only 3 weeks to go!! We still have plenty of spaces:
If you want to do 9 holes
If you want to join us for lunch only
If you would like to sponsor a hole
Please sign up on the sheets opposite the ladies locker room. Everybody welcome, its going to be a fun filled experience. We will be having raffles, stalls for browsing and a few surprises on the course, cash or cheque payment possible. Remember to bring cash and your £1 coins in particular - that's all I am saying! Donations for our raffle, would still be much appreciated, there is a box in the ladies locker room for the collection of:
Bottles
Home made items
Gifts
Please bring these items on a Tuesday or Thursday so that contents can be locked away for security reasons.
Hole in One
Congratulations go to Vicki T who gained an amazing 'Hole in One' on the 9th last week! Fantastic Vicki. Many thanks for your very kind donation to the Lady Captains Charity.

R&A Finals
Friday saw Amanda M and Ann K compete in the R&A regional final, where 35 clubs were represented. A great day and fantastic experience, both ladies played well, but were unable to match the 38 points from the winners. Nevertheless, a big well done.

General Scores
The England Golf rules for putting in a General Score card are:
You must:
Pre-register the round before you play. This can be done on the IG App
Play and enjoy the round in accordance with the Rules of Golf
Enter your score using the IG App following your round
Ensure your final score is verified by a playing partner who has witnessed the round and who holds a World Handicap System handicap index
In order to protect the integrity of the handicap system a time lag is in operation from the point where intent to play a round is registered to the stage when a score can be accepted.
Birdie Badges
It was agreed at the committee meeting on 15th July that the allocation of Birdie Badges would change. With effect from 2021 birdie badges will be presented to individuals when they achieve their:
1st Birdie
10th Birdie
20th Birdie
Touchscreen Score Entry Terminal
The touchscreen is back in place, located in the reception area for those of you who may just prefer to use it instead of your mobile phone to register your score. Please note - this may be relocated to the bar if it doesn't workout in its current location.

Annual Course Maintenance Week
Will be commencing week beginning Monday 9th August, therefore members will only be able to play 9 holes on Monday 9th and Tuesday 10th August. The Summer Eclectic round 2 will be moved forward a week. Monday 30th August is a bank holiday so round 4 of the Eclectic will take place on Tuesday 7th September 2021.

Enjoy your week!

Kind regards
Pauline Humphrey
Lady Captain 2021