It's getting hot out there! Water, hats and sunscreen at the ready for the week!

The friendly squad played at home v Heydon Grange on Wednesday. Some great golf and close matches, well done ladies the overall result was halved.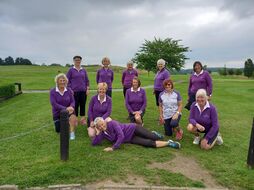 Last Thursday saw the ladies competing for the rescheduled 'Macknight Pairs Trophy'. Congratulations go to our winners Ann G and Julie R who came in with a great nett score of 43. Well played ladies.
Presentation of 2020 Cups/Trophies/Awards
Following the Lorraine Palmer Cup on Thursday 22nd July, Rogie will present the long awaited prizes from 2020. Tea and cake will be available in the conservatory.

Away Day- 'Kelland Pairs' Wyboston Lakes, 5th August 2021
Looks like a fabulous day. Pairs for the day are displayed on the notice board. If you would like a buggy please let Kathy C know asap. Payment - if you have not already done so is: By bank transfer: CDLS Account No 81769642 sort code 40-28-14. Or, alternatively please place cheque or cash in an envelope marked with name, amount and Away Day, and place in the black box in the ladies locker room thank you.

Palmer Cup Friday 13 August 2021
Good to have the chance to play this competition against the senior section this year. If you wish to be involved please sign up via IG. There is also a poster on the ladies notice board with further information.

Lady Captains Charity Day 19th August 2021
Fast approaching our rescheduled Charity Day, only four weeks to go!! We still have plenty of spaces so don't forget to sign up, its going to be a fun filled experience. We will be having raffles, stalls for browsing and a few surprises on the course, so make sure you have plenty of cash particularly some £1 coins - thats all I am saying! Donations for our raffle would be much appreciated. There will be some boxes in the ladies locker room for the collection of:
Bottles
Bric-a-brac
Second hand clothing
Home made items
Books
In fact anything you feel is a nice gift to win. Please bring these items on a Tuesday or Thursday so that contents can be locked away for security reasons.
General Information
Club PhotoShoot - There will be a club photoshoot on 15th July, looking for volunteers to be in the photos.

Kind regards
Pauline Humphrey
Lady Captain 2021