Not the sort of weather we were anticipating for May! Fingers crossed it will improve soon, where did that wind come from?

Another golf week done! Thursday saw the 'May England Golf Medal Qualifier' Congratulations go to:

Division 1 Winner: Linda Brown - net 69
Division 2 Winner: Marion D - net 71
Great scores ladies. Well done everyone, harsh conditions for all.
There are still a few spaces left in our Jubilee Jug competition on 20th May 2021
Jubilee Jug Thursday 20th May 2021
This is the first of our charity raising competitions.
The Theme will be 'Rainbows' which links in with our hospital charities for this year
Format: Pairs 4BBB
Tea and cake served in the conservatory on a rolling basis
Prizes for:
Nearest the Pin
Longest Drive
Best dressed rainbow pair
Best dressed rainbow trolley
Price £12 per person
Includes all of the above and a contribution towards 'The Magic of play" and 'The Lister Butterfly Service"
If you would like to participate please sign up on IG
Sign up opened at 8am on Thursday 6th May (2 weeks prior to event)
Please make your payment to:
Chesfield Downs Ladies Section Account (CDLS)
Account number: 81769642 Sort code: 40-28-14
Should be a very colourful day. Lets light up the course!
General Information
Sign up is open for the Ping Mixed 4BBB on Saturday 29th May. 5 day members will be given courtesy of the course. If you do not have a partner sign up on IG and the men's section will try and accommodate you

Friday 14th May is our first away 'Friendly Match' of the season, Chesfield Downs v Mount Pleasant, good luck ladies


Sunday 16th May sees 6 of our ladies competing in the Ken Bird Trophy, good luck ladies


Great to see so many of you signing up for the KO competitions, all available on IG. Closing date for entries 14th May. Competition starts from 17th May
On the Course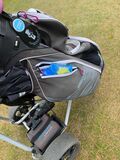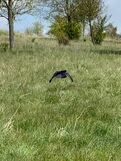 Naughty crow on 9th green, thought he wouldn't be seen, stealing Katie's lunch, in time for his brunch.
Poem by permission of Kathy C and Helen. Photo kind permission of Katy C. Witness by Amanda
Enjoy your golfing week ladies and be careful of the crows!
Kind regards
Pauline Humphrey
Lady Captain 2021