What a change a week can make, glorious sunshine was enjoyed by all on Thursday in the Ping Pairs Betterball/Margaret Gentle Vase. Congratulations go to Debbie F and Kathy M for coming in with an amazing 42 points, great score. We await the results to find out if it was enough to qualify for the Grand Final to be held at Thonock Park, Lincolnshire on 6th September! Good luck ladies!


Mixed Ping Pairs
Saturday saw the first ever Mixed Ping Pairs competition. Fantastic to see so many pairs out there (22 to be precise) competing for a place at the National Finals to be held at Thonock Park, Lincolnshire on September 7th. Some very impressive scores on the day. Congratulations go to Kathy and John D coming in with 44 points. Will it be enough to qualify? Fingers crossed it is. Well done guys!
Scratch Team Report By; Team Captain Jackie Reid
Sunshine, rain and thunder greeted us on this Spring day for our return match away at Harpenden Common. A lovely warm welcome by all and a very interesting course more than made up for the weather. Unfortunately the result was the reverse of our 4-1 home win. Well done to Linda on halving her match in only her second scratch appearance. Her outstanding performance in competitions recently secured her place today. Lovely scones, jam & cream followed by a fruit platter was enjoyed by all. Something that must be quite unique greeted us on the third hole - a cricket pitch ! Yes, a cricket pitch. Every other Sunday at 2pm the sound of leather on willow can be heard. The hole reverts to a par 3 and if you do happen to land on the wicket you do get a free drop!
Friendly Team
Saturday 5th June see our Friendly Team in action at home. Chesfield Downs v Colmworth. Good luck ladies.


Score Cards
Thursday sees the return of the Coronation Foursomes Competition. To avoid any confusion over scorecards and how to fill in correctly please follow instructions below:
Cards For Coronation Foursomes:
NAME OF COMPETITION
DATE
TEE TIME
NAMES OF PLAYERS
HANDICAP INDEX
COURSE HANDICAP
PLAYING HANDICAP (for coronation Foursomes 50% of combined course handicap)
RECORD THE BEST SCORE PER PAIR
When you have finished your round check and agree the scores with your playing partners then sign the card as the MARKER.
Add your own scores to IG via the App
Upload a photo of the scorecard (this is the NOT your scorecard it is the scorecard with your playing partners scores), select one of their names from the database to allocate the card to.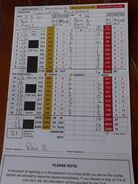 Charity Day
Remember to invite your golfing friends to our:

Charity Day 15th July 2021

This is the Main event of our year! Many thanks to those of you that have signed up to help but we still need a few more!

Please sign up on the poster on the notice board opposite the ladies changing room.


General Information
First Aid: We still have spaces for the first aid course on the Thursday 24th June after golf (approximately 3pm). The cost of the session is £5.00 pp which covers the cost of the trainer. If you wish to attend please sign up on the poster, on the notice board (opposite the ladies locker room). Payment to Chesfield Downs Ladies Section: CDLS 40-28-14 81769642

The Creek: Otherwise known as the 'Ditch' - The integrity of the ditch and the challenges it brings to playing our course are important. However, there are many members (and guests) who walk with their trolleys through the ditch and are subsequently eroding the banks and destroying the ditch itself. This is particularly evident on the 10th (by the dry pond) and the 14th! Please ONLY use the bridges to cross.

Sunshine: Looks like a few weeks of sunshine ahead. Although this is very welcomed please remember to bring your suncream/fluids/hat when you play. To avoid dehydration don't forget to prepare for your round by taking on plenty of fluids the day before you play and enjoy the good weather. Looking forward to a sunny week!

See you on the course!

Kind regards
Pauline Humphrey
Lady Captain 2021