Thursday saw the Jubilee Jug celebrated in style. So many amazing costumes on both ladies and trollies. Despite the howling wind our winners came in with a fabulous 44 points! Congratulations Katy C and Mandy U. I hope you all enjoyed the day as much as I did!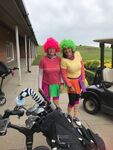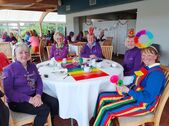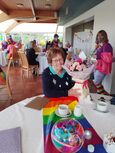 Best wishes to Pat P who celebrated a big birthday during the week! Happy Birthday Pat!
Preparations are now on the way for: Charity Day, 15th July 2021
This is the Main event of our year! To make it a success we need YOUR HELP. We Cannot Do It Without You!
We need ladies to organise/help in;
The halfway house
stalls/raffles
organise score cards
take photographs and much more!
Please come forward and sign up on the poster. It's on the notice board opposite the ladies changing room!
The clock is ticking!
General Information
Spring Salver
: On Saturday the weekend ladies competed for the Spring Salver. Congratulations go to Helen L who came in with a great score of 37 points.
Scratch Team
: On Monday our Scratch team are playing away at Harpenden Common, Good luck ladies.
Mixed Ping Pairs
: Saturday 29th May. This is a new event to the calendar this year, great to see some mixed competitions in the diary. Still space for one lady!!
2020 Prize Giving Event
: Last year we were unable to have any presentations of trophies/cups/awards. Rogie has arranged for a prize giving event where she will award prizes from 2020. This will take place on; Thursday 22nd of July following The Lorraine Palmer Cup. Further details to follow.
First Aid Course
: On Thursday 24th June after golf (approximately 3pm) we have arranged for a qualified first aider to come and give a brief talk (approximately one hour). Areas to be covered are basic first aid skills, preparing us to cope if we find ourselves in that dreadful position and we don't know what to do. The cost of the session is £5.00 pp which covers the cost of the trainer. If you wish to attend please sign up on the poster, on the notice board (opposite the ladies locker room).
Megan Bonner Par 3 Championships
: Rescheduled to Thursday 17th June (details on IG).
We have an exciting week ahead with:
Australian Spoons: Tuesday 25th May - please send cards to Kathy C
Ladies Ping Pairs: Thursday 27th May
Play well and enjoy, I believe the weather will start to improve from Wednesday - fingers crossed!
See you on the course!
Kind regards
Pauline Humphrey
Lady Captain 2021