Things are getting busy! We have seen a week of competitions and matches. We saw the Ken Bird Trophy being played today. Our Scratch and Friendly teams have also been in action;


Scratch Match (Team Captains report Jacky R)
Chesfield Ladies scratch team played their second match of the season on Sunday away at Knebworth. The weather was kind, warm with a slight breeze. The opposition fielded 5 very strong players, highest handicap being just 6.9. With home advantage, on the day, they were too strong and took all the games. Congratulations to Annette who made her debut and received her boot bag.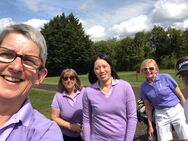 The Friendly Team were at Mount Pleasant on Friday, although all matches were very close, it was not to be Chesfield ladies day and Mount Pleasant took the match 4 - 1. Well played ladies.
Ken Bird Trophy
The Juniors triumphed again taking the trophy for the 5th year in succession with a total of 143 points. It was a very enjoyable event for the ladies who loved the format of the day. Well done Juniors, and well done to all those who took part.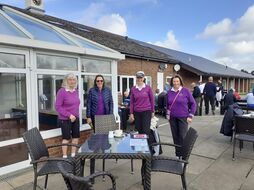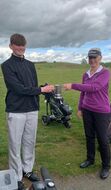 Upcoming Competitions
Jubilee Jug
Very exciting to see the Jubilee Jug back on the calendar this Thursday 20th May. Tea and cake will be served in the conservatory on a rolling basis. Please sit in pairs on tables of six, being aware of the 'rule of six inside'. Unfortunately as government restrictions are still in place we are unable to hold a prize giving after this event. All prizes will be presented later in the year. I realise this is disappointing, but it will not stop us from enjoying this competition and will be the start of better days to come!
Ann Grist Trophy and Mary Warmoth Trophy
The draws for these Knock-Out competitions have been drawn at random and open for play from tomorrow 17th May 2021. To view the draw sheet/rules/contact on the App go to:
Matches - select competition
Scroll down to see your playing partners & message
Scroll down to see how many shots given
To view the draw sheet click on the 3 dots at the top of the screen (in the right hand corner)
Select; View full details
Alternatively on Intelligent Golf go to:
Home page
Scroll down till you get to 'My Upcoming Competitions'
To the right side of your competition click on; Details/Results
You can now select Shots given, contact & availability
Deadlines for each round are on the draw sheet. If you are unable to meet deadlines in each round, unfortunately you will have to forfeit the match.
Ping Mixed Pairs
Sign up is still open on IG for the Ping Mixed 4BBB on Saturday 29th May. 5 day members will be given courtesy of the course. If you do not have a partner sign up on ig and the men's section will try and accommodate you.


General Information
Following competitions if you have trouble uploading your scorecard please send it to Karen on her personal WhatsApp. Please remember when you upload the scorecard you assign it to the person you are marking for not yourself.

As some of you are aware Olive unfortunately is still injured so will not be playing with us for a while. Get better soon Olive! Until then Rogie has kindly taken over the team management for the Palmer Cup and Ladies v Men competitions.

On Thursday 24th June after golf (approximately 3pm) a qualified first aider is coming to Chesfield Downs to give a brief talk (approximately one hour) to the ladies section. Areas to be covered are basic first aid skills, preparing us to cope if we find ourselves in that dreadful position and we don't know what to do. The cost of the session is £5.00 pp which covers the cost of the trainer. If you wish to attend please sign up on the poster, on the notice board (opposite the ladies locker room).

Enjoy your golfing week ladies, see you on the course!

Kind regards
Pauline Humphrey
Lady Captain 2021