Another sunshine week of golf. One of our ladies celebrated her birthday in style on Thursday, Happy Birthday Nicola!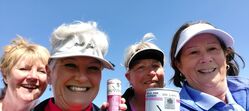 Congratulations go to Kathy D, Linda A, Mandy U and Denise C winners of the O'Sullivan Cup. Well done ladies!
Friendly Match
Friday saw Chesfield Ladies in action for the first friendly match of the season, Chesfield Downs v Pavenham Park at home. Some great scores, and some very close matches but it was not to be our day, we were overcome by the very strong Pavenham Park team. It was however, a very enjoyable occasion, and great to be back playing against other clubs.





Well done Chesfield Ladies good effort.
Upcoming Competitions
Ann Warner Trophy - Ladies with handicap allowance of 29 or less
Maureen Eastwood Salver - Ladies with handicap allowance of 30 or more
Format - Individual Stableford Qualifier. Ladies will play off their PLAYING handicap 95%. (Playing both competitions at same time)
Good luck everyone!
Ladies Away Weekend, June 27th, 28th, 29th at Staverton Park
Finally, we are getting to go on our 'Away Weekend'. Many thanks to Nikki and Nicola for organising us all. We now have to pay the final balance. Please see below for details:
Costs:- Including 2 nights Bed, breakfast, evening meal and 2 rounds of golf. If you have not paid a deposit;
Twin Room - £239
Single Room - £289
For those that have paid a deposit;
Twin room - £204.00
Single room - £254.00
Please transfer your balance No Later Than 6th May to:
Chesfield Downs Ladies Section Account (CDLS)
Account number; 81769642 Sort code; 40-28-14
General Information
Please note there will not be a captains shuffle on Tuesday 4th May due to the Spring bank holiday weekend. If you wish to play please book your own Tee time.

Intelligent Golf have released a new version of the igMember App 2.2.12 Please update your app if it hasn't automatically updated.

Enjoy your golfing week!

Kind regards
Pauline Humphrey
Lady Captain 2021