Well January is finally over, I can hear all those ladies who have been doing dry January sigh with relief. Well done ladies, you have massive respect. I don't think I would have lasted more than a day!

Hopefully you are all keeping well and safe. We are experiencing some difficult times at the moment, but as we move into spring, and many members are receiving their vaccine, things should start to improve. Fantastic achievement by the NHS, they do us proud. Until we get back to our beloved Chesfield Downs there are only a few bits of news/information for you.

Course Update
Changing rapidly every week from this: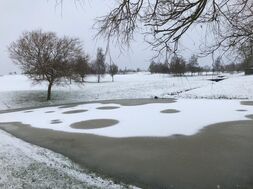 To this! What a difference a week can make.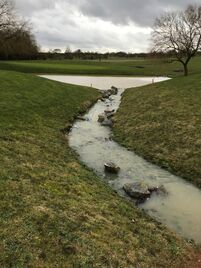 I think would take a penalty shot instead of playing out of that! (I'm always in that ditch). Photographs courtesy of Paula M, whilst out enjoying her daily walks! Thanks Paula.
Despite the adverse weather and the course being closed it is great that Lee (and his limited ground staff) are able to continue to work on the course. Part of the greens drainage work has been completed on holes 3rd, 5th, 7th, 11th, 12th, 16th & 17th. This should help with the drainage on the greens. The main 'drill and fill' on the worst affected holes 2nd, 6th and 14th should be commencing on 8th February, weather permitting.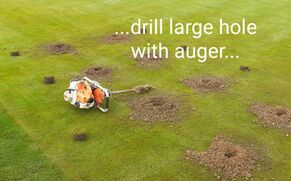 (Lee's report) Around 80 separate holes individually hand drilled and filled. The drills remove soil, allowing lateral movement within the root zone and releasing compaction pressure. Drilling improves surface water infiltration and percolation, reducing the soggy, spongy conditions common in "push-up" and old clay-based greens. Deep holes encourage deep, strong roots and drilling depth is always consistent.
County News
We received an email from the County Development Officer stating; 'It is with regret the Committee has taken the decision to cancel the Ladies' London Foursomes which was due to take place at Moor Park this year, concerns over the health and safety of the competitors being uppermost in our minds'. So sorry ladies if any of you were thinking of entering. Next year maybe?
At Home Series via IG
Some of our ladies attended Jo's online class 'chipping and putting' via zoom on Thursday. There has been some very good feedback. Keep a look out for more on IG.
Go to IG (not the app) Home page, scroll down to Latest News at Home
'Log into at Home' for classes
'Register for session' for live online golf tutorials
This is all the news for this week. The main thing over the next few weeks is we all keep healthy and cheerful. If anyone wants to share or recommend items for the newsletter relating what you have been up to during lockdown eg: decorating, reading a good book, great films, or making golf club head covers! Send me your information/pics!
Keep in touch.
Thats all for this week!
Kind regards
Pauline Humphrey
Lady Captain 2021



https://www.justgiving.com/fundraising/pauline-humphrey